We've all seen photos of the perfectly manicured home on wheels: the reclaimed wood-lined walls, the occupants dreamily sipping coffee and watching a sunrise. People of all ages (including me) are asking themselves, "Can I do that too?" 
When I first saw the van that would one day be mine, I thought it was perfect for me. The 1986 GMC Vandura had a comfy bed, turquoise cabinets and twinkle lights that made me weak in the knees.
But a mobile life can involve just as much work as a stationary one – sometimes even more. You won't have to pay a mortgage, but you might need new brakes. You won't have to rely on neighbors to water your plants when you travel, but you will have to keep a tiny space organized and livable on the road.
If those things don't scare you off, the rewards can far outweigh the work. Here are some important questions to consider first.
Which home is right for you?
There are various names for homes on wheels and recreational vehicles.
The RV is a self-contained, manufactured home on wheels. It typically contains a bathroom and a kitchen, and depending on the version you choose, it can be driven or towed. If you own a vehicle with towing capacity, a towable RV allows you to park and move around more freely.
Camper vans are more compact but offer fewer amenities. They might have a small kitchenette but rarely contain a bathroom. If you're willing to rough it on the road, the camper van can be a more affordable option.
Then there are the more creative approaches to mobile living. People have converted school buses and vintage Airstreams into living quarters. Choosing the vessel for your life on wheels is an important decision, so weigh your options carefully.
How will you use it?
Previously, people bought mobile homes when they retired. These days, the options for remote work allow more people to embrace a mobile lifestyle, with many variations. Some people want to travel regularly, while others park their homes and only occasionally switch locations.
My motivation for buying a van was the freedom to spend month-long stints on the road and rent out my house whenever I left. As a freelance writer, I often travel in search of stories, and this seemed like a perfect way to do so. I could have the comforts of home and the freedom of wheels.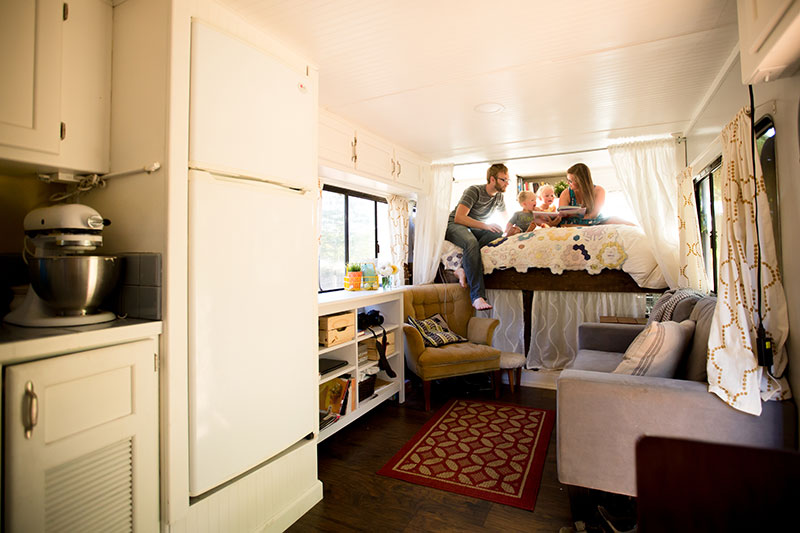 However, since dropping $5,500 on the initial purchase and about $1,000 in repairs, I've landed a full-time job. It's now more of a weekend camping vehicle than a home. The extra headspace that once seemed luxurious now feels cumbersome, especially when I'm driving over windy mountain passes and spending $60 to fill up my tank. Also, the $80-per-month insurance feels extra expensive, now that I'm paying for something I don't often use.
I'll travel regularly in my van someday, but my experience illustrates the importance of knowing how your van will facilitate the life you wish to lead. Where will you go, how often will you go and what will you do? Looking back, I would have gone for something a little smaller and lower maintenance.
Freedom can become debilitating if you don't know how you'll use it.
Where will you park?
Campgrounds, RV parks, Walmart parking lots and city streets have all become temporary homes for people who live on the road. But you must consider parking laws, safety and cost – every single night.
RV parks and many campgrounds offer hookups for electricity and water. If your home is designed to accommodate those amenities, they're nice to have. It helps to research campground details before you hit the road. 
If you're freeing yourself from rent or a mortgage, you might not want to dump that money back into parking each night. National forests offer free camping, as long as you're 100-200 feet away from any road, trail or water source. Ask local ranger stations about access to dispersed camping and local regulations.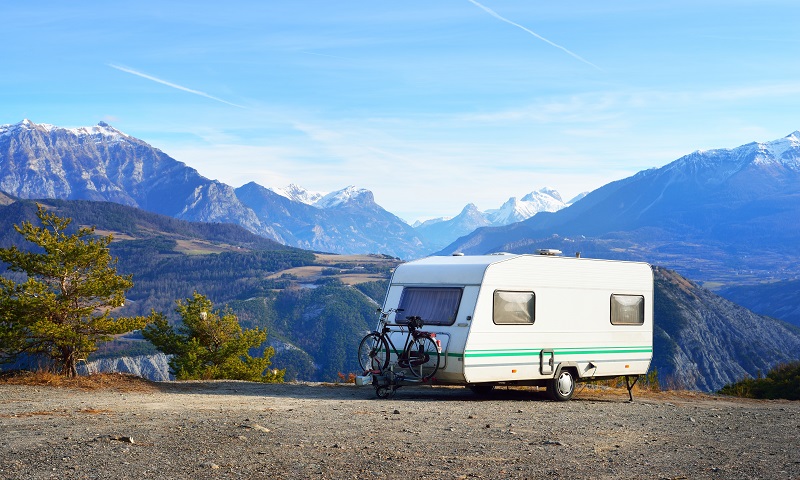 While mobile life is often celebrated with a backdrop of ocean beaches or beloved national parks, cities are something to consider too. They just require a little extra consideration.
Vans have a leg up on bigger, flashier RVs when it comes to cities, especially if your van doesn't look like someone lives in it. 
The most important piece of advice when considering where to park: Do your research. Reserve a spot when heading to popular parks, call ranger stations for information about parking in the area, join local forums, and always collect information ahead of time so you you're not searching for a place to sleep in the middle of the night with no service.
How much does it cost?
Paring down your belongings can be a great way to save money. But mobile living isn't always cheap.
First, there's the cost of your vehicle, which can vary considerably. Conversions – van, Airstream, school bus, etc. – can be expensive, even if you're doing the work yourself. For example, this stylish Sprinter van conversion cost $54,120. You'll see a huge range on RV prices as well, from several thousand to millions of dollars.
Once you find a home that's right for your budget, you'll need to consider living costs too.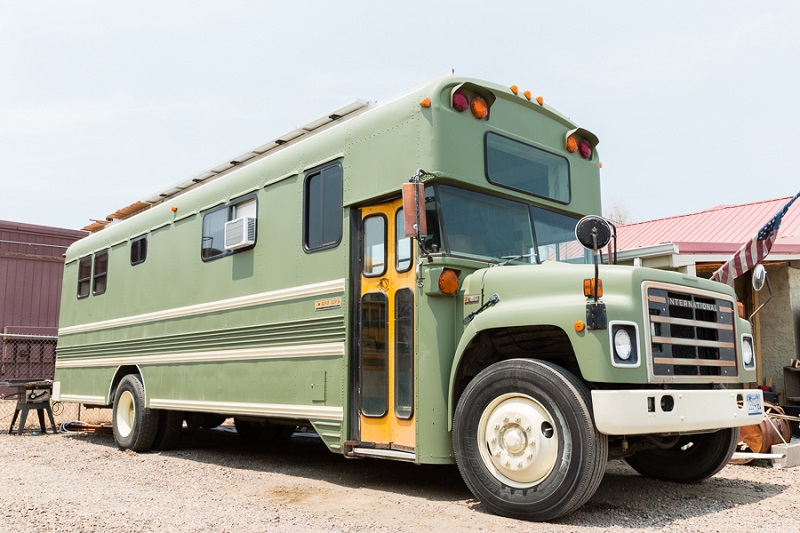 Camping fees are about $20 per night, which can be alleviated by free parking. But you won't get water and electrical hookups unless you pay for them.
Vehicle insurance will add a few hundred to several thousand dollars in yearly costs. Comprehensive auto insurance, while more expensive than bare-boned liability plans, will protect your home and belongings from vandalism and theft.
I learned the hard way that an RV insurance plan is required of any vehicle that's been converted into a living space. Even though my van isn't technically an RV, AAA initially refused to tow me when I broke down in Seattle because I didn't have RV insurance. I've since upgraded, which has been worth it for the peace of mind. 
Depending on the age and condition of your vehicle, you'll also need to factor in regular repairs. And don't forget gas money! You'll spend a lot more on gas for your mobile home than you will on filling up your regular car. And the more toys you carry with your mobile home, the more your gas bills will climb.
Where will you go to the bathroom?
Unless you're able to find a mobile home with a built-in shower and toilet, personal hygiene can be a challenge on the road. But there are plenty of creative ways to make it work.
A membership to a gym chain with locations across the country, like Planet Fitness or L.A. Fitness, will allow you to access showers and bathrooms – not to mention a workout, which can be vital when your living space only allows you to walk a few feet in either direction.
Campgrounds and truck stops also provide facilities to the traveler looking to freshen up.
If you don't have a toilet, you'll likely find yourself using truck-stop and cafe bathrooms. But a late-night bathroom break could mean toilets aren't available, and you'll have to settle for whatever is around.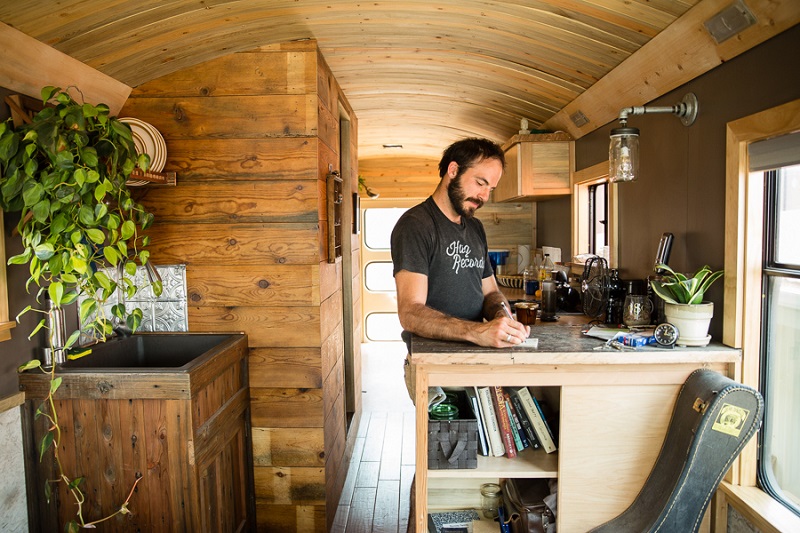 Can you work on the road?
Remote work opportunities have freed many people from the constraints of a typical office job. But working from a mobile home is much different than a home office.
First, consider how often you'll need to work and where you'll be able to do so. It might be helpful to stay close to developed areas where there are plenty of establishments offering free Wi-Fi.
If you can work comfortably inside of your mobile home, you can use your mobile device as a Wi-Fi hotspot or purchase a dedicated Wi-Fi hotspot for $100-150. Whichever option you go with, you'll need to sign up for a service plan with data. Check on the coverage area of service providers before you pick one – they're no use when you're in a dead zone!
Working from the road also means you'll need electricity, which is nice to have for other uses, too, like charging your cell phone or running a fan to stay cool when your engine is off.
Solar panels are a convenient, rechargeable and environmentally friendly energy source. 
I can see my van parked on the street from the window of my house right now. I'm still not entirely sure what a mobile life will look like, but figuring it out is half the fun.
Related:
Originally published September 2017.