The wheels on the bus go round and round – and then might stop for family dinner, if you're Gabriel and Debbie Mayes.
It may not be the dream for every family, but it's the one Debbie envisioned after seeing a video on Facebook a few years ago. It featured a couple who had converted a school bus and spent all their time on the open road, exploring the country.
"I immediately thought, 'Hey, we can totally do this with our kids. Why not?'" she recalled. "And so I brought the idea to Gabriel. It took a while to convince him."
"Definitely took a while," Gabriel chimed in.
But the more the duo thought about the idea, the more it made sense. They felt disconnected as a family in a 5,000-square-foot home; downsizing would bring the family closer.
4,752 square feet closer, to be precise. 
"We were talking about that disconnection in our marriage, in our family as a whole, and just thought if we're gonna do anything adventurous, now would be the time," Gabriel said. "We were looking to reconnect, to do something crazy exciting with our kids, and just to take life and flip it upside down."
So they bought a school bus to live in.
The family of six – two adults, four kids – sought the help of an outside company when it came to finding the bus and designing the features.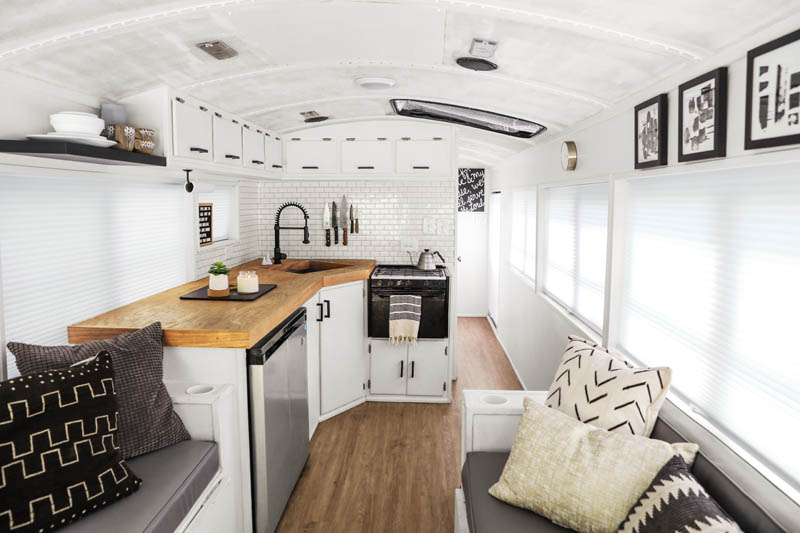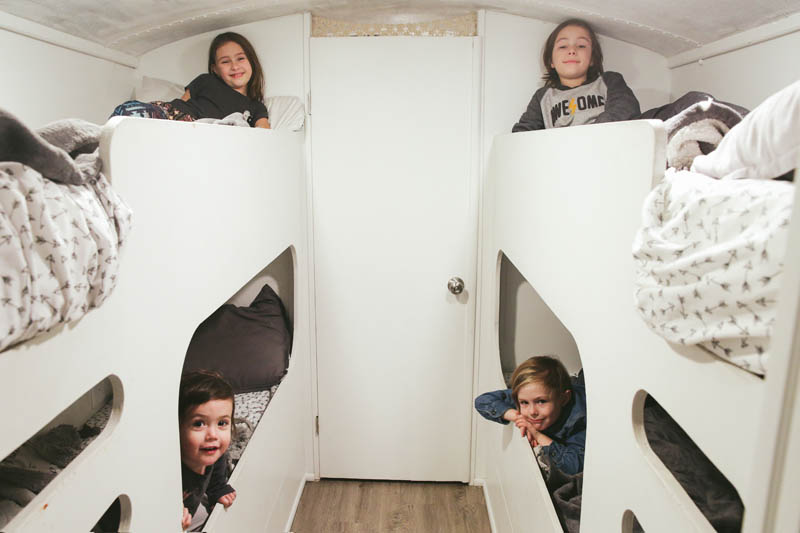 Their priorities: separate sleeping areas for the kids and the adults (the master bedroom has a door that closes), space to entertain guests, and a kitchen with ample countertops. (They pulled that off by installing an under-the-counter fridge. It holds enough food for a week!)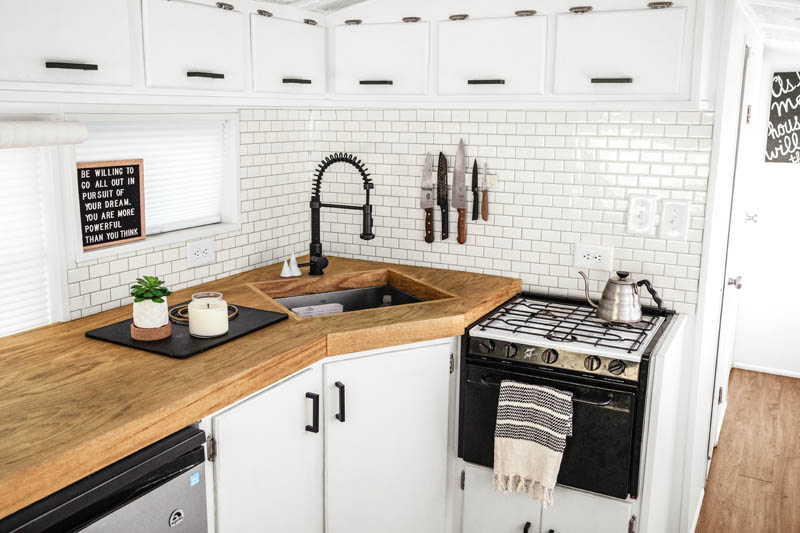 "We even went and taped out the design on the floor so we could walk through and see," Debbie said. "We did things like reduce the depth of the couch, reduce the depth of the [kids'] bunk beds. We knew aisle space would be way more important than them having that extra bed space. I was very intentional in designing all of the little areas to be functional. It's down to the inches."
Gabriel's only ask: a rooftop deck.
"I just had this vision of taking the bus, backing it up against the lake, opening up the skylight out of my bedroom, going up to the roof deck, and then sitting in my chair and just chilling," he said. "I just wanted this place where I'm secluded from the rest of the world and I'm overlooking just beautiful scenery."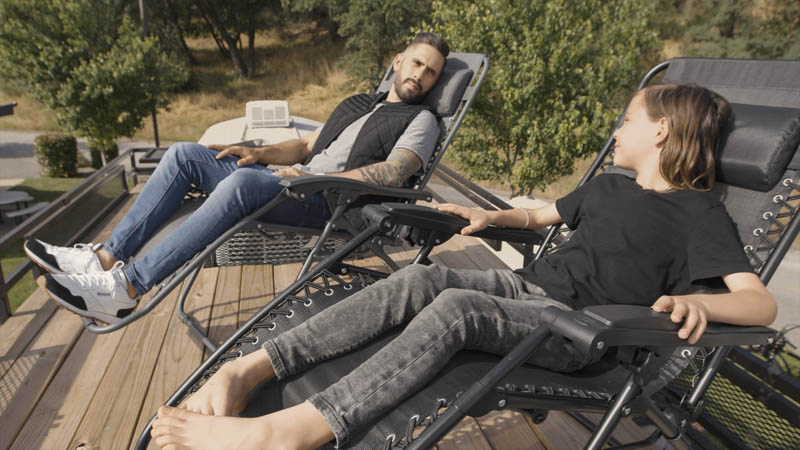 Buying and renovating the bus cost about $38,000 and took about five months. During that time, the family sold or donated much of what they owned and put the rest in storage. They hit the road in August 2017.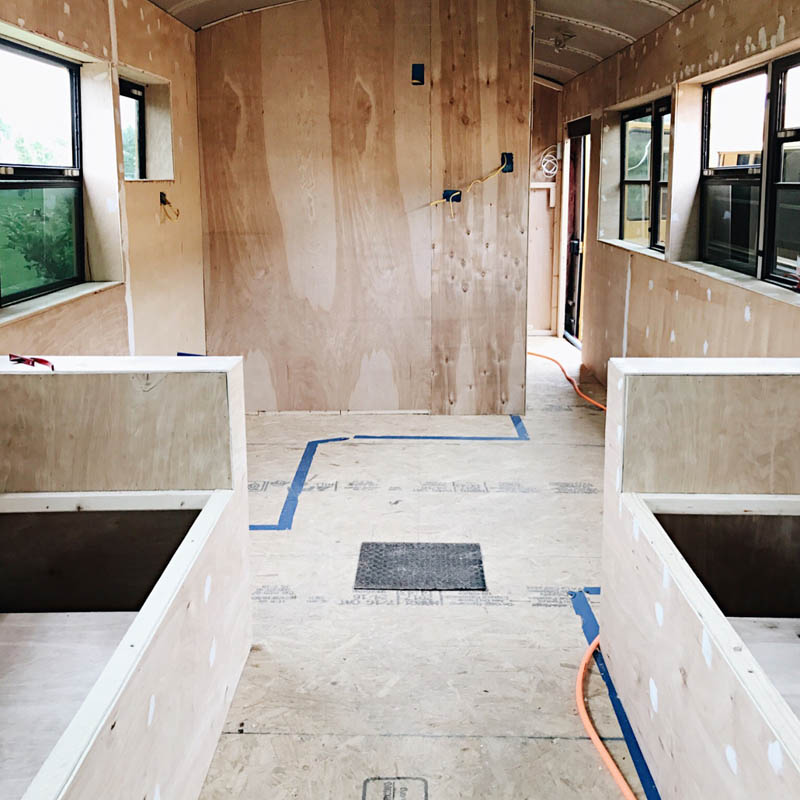 On their first trip, the road hit back.
"I remember the day that I got in the bus. We had spent the whole day packing. Last thing goes on, the kids get on, we close the door, and I put it in drive and our home starts moving. I can't fully explain how exhilarating that feeling was," Gabriel said.
"It was amazing but also did not go exactly how we had planned," Debbie added. "We got 300 miles into the journey, and the bus broke down on the side of the road. It was like, 'Wah-wah.'"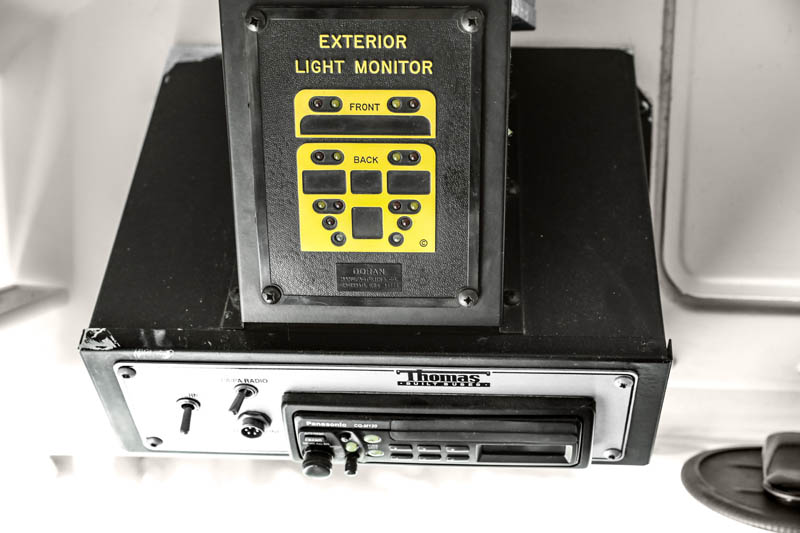 The school bus – which they affectionately call "the Skoolie" – picked a patch of desert land in Oklahoma to break down.
Turns out it was also a piece of private land.
"We fed the kids lunch and tried to figure out what the heck we were gonna do, and a random stranger pulls up after we'd been there for a few hours, and he was like, 'You're actually on my land.'" Debbie said. "But he had been a diesel mechanic."
The stranger ended up building a part to get the bus moving. It's been pretty much smooth sailing ever since, from the mountains of Wyoming to the Bonneville Salt Flats of Utah.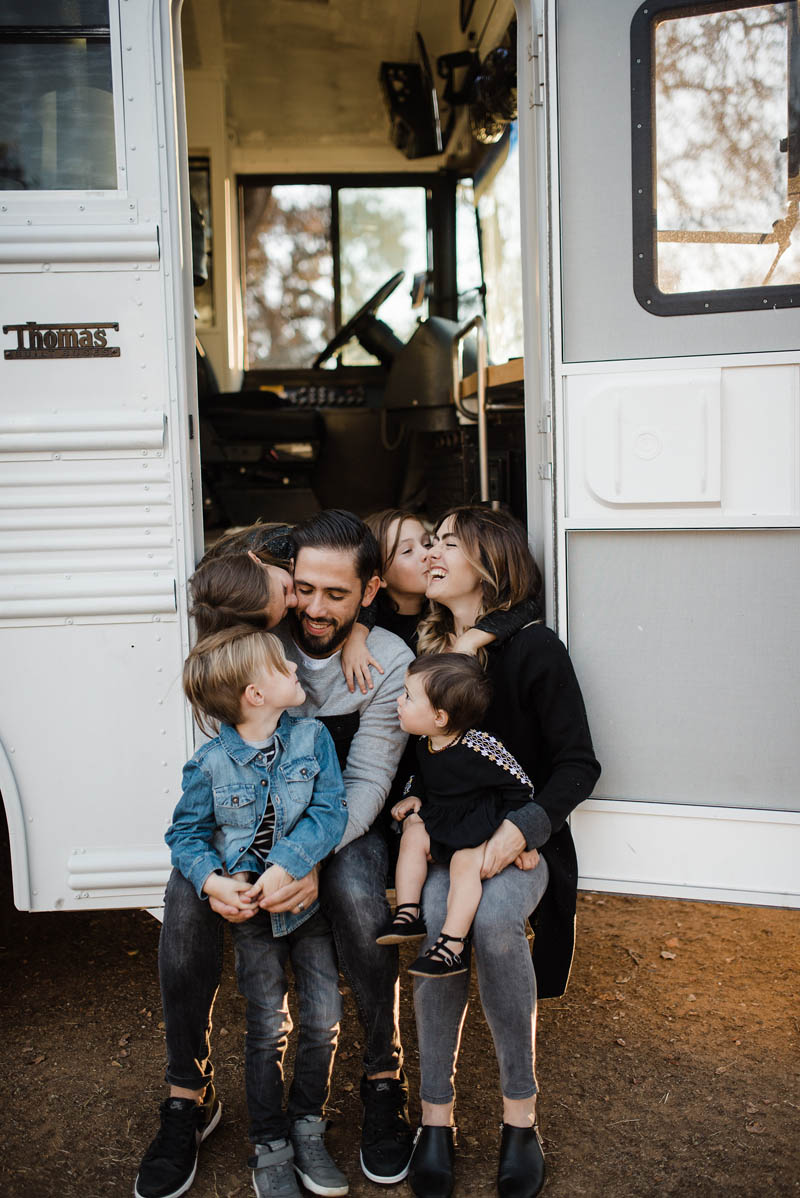 Their biggest advice for others considering a home on wheels: Do the research. Find a builder or designer you can trust. In retrospect, they probably would've chosen a washer and dryer over installing a shower, but they have few other regrets.
And yes, of course, there are seat belts for all. The family designed the living space to hide the seat belts under the couch cushions when the bus is parked. The baby rides in a car seat. "They are able to buckle up safely," Debbie said, about her kids. Anything that's breakable gets packed away for when the bus moves.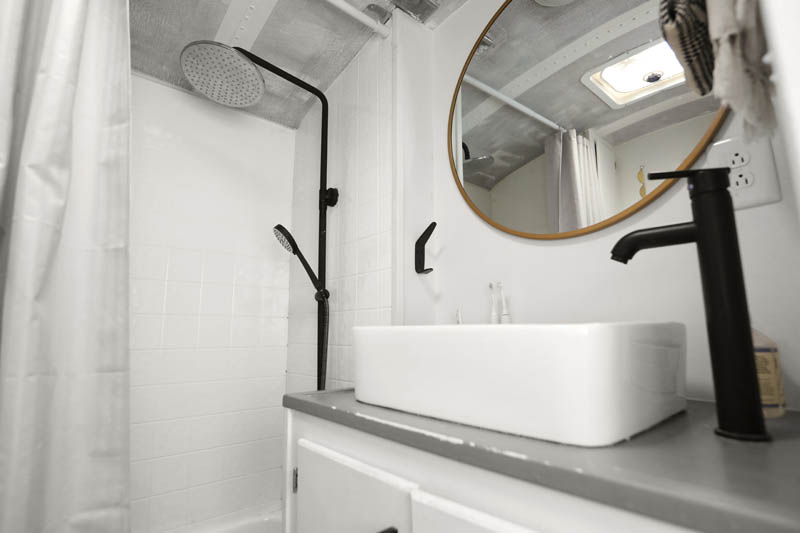 "To be able to have everything that you own as a family of six inside 248 square feet, knowing everything that you own is where it's supposed to be – the amount of stress and anxiety really goes out the window," Gabriel said.
"Whenever you rid yourself of this desire to have things, it's not that the desire goes away, it's just that you just don't have the space for it anymore," he continued. "It causes you to start thinking on different levels. Now I just want to be intentional with my wife and be intentional with my kids. This massive weight is just gone."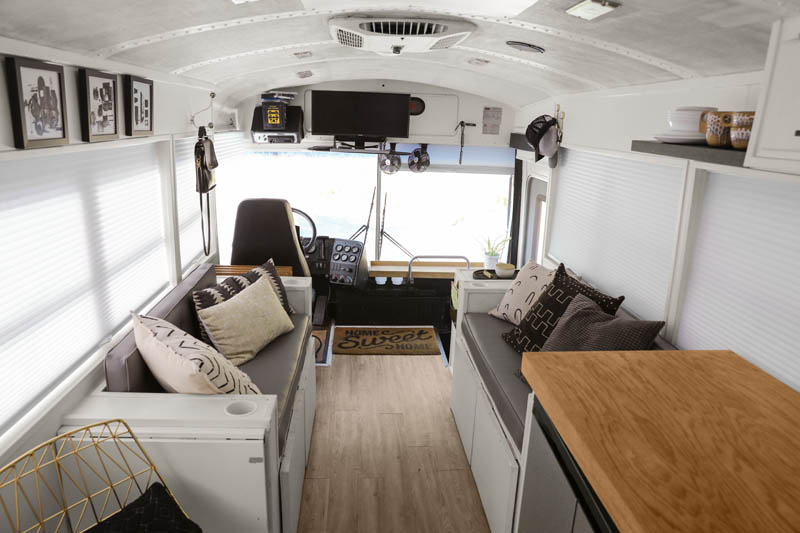 Eventually, the Mayes plan to park the bus and turn it into a short-term rental. They hope to find a forever home and allow others to explore their tiny home on wheels.
"The kids feel like they're on this massive adventure. Whenever you pull up to a location that's surrounded by mountains or there's a new waterfall to go explore or some trail just to go run down, you put the bus in park, and you open the door," Gabriel said. "Just to see their excitement … I've never experienced anything like that."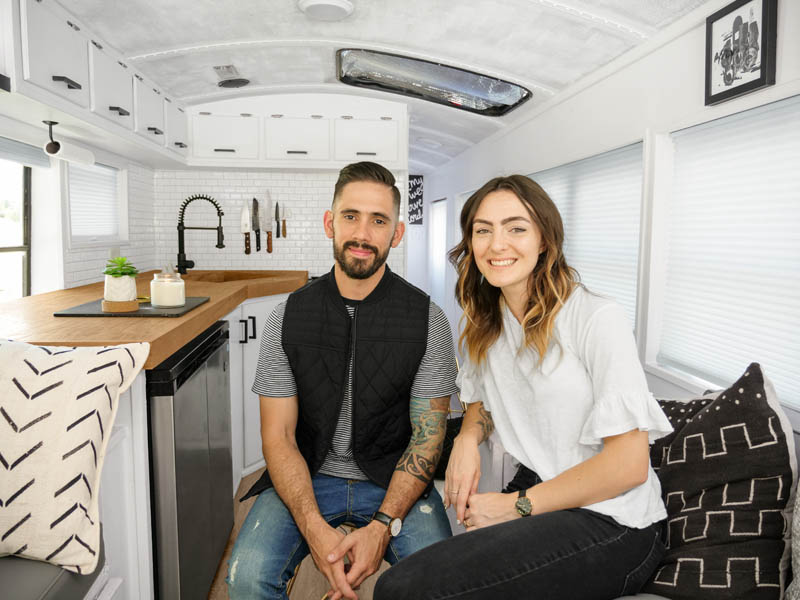 Top featured image by Jen Hammer.
Related:
Originally published July 2018.