Renting a home with other people can be stressful. But with careful planning and clear communication, living with others doesn't have to lead to passive-aggressive notes and arguments.
Whether you live with your sibling, your bestie or your significant other, try these tips for making smart use of those shared spaces.
Closets
What matters most when sharing closet space is equality. No, you don't need to make a line with tape on your closet floor (please don't). But you should stick to your designated areas.
Hang vertical cloth shelves in the middle to store your shared towels and extra sheets, while also creating a closet divider. And when you toss your shoes in the closet, make sure they're on your side.
Cabinets
Maximize the cabinet space you're given by adding stackable wire shelving racks. In the kitchen, they're great for storing plates on top and bowls below. And under your sink, you can put extra sponges, cleaning rags and garbage bags below with your cleaning spray bottles up top.
Storage bins and plastic stackable boxes can also save the day – especially when it comes to bathroom storage. Put your skincare items in one and your dental products in another.
These stackable boxes come in all sizes – the ones with more depth can fit your bulkier products, and the shorter boxes are better for smaller items, like your travel-size products.
Pantry
Once you place those stackable wire shelves in your kitchen pantry, you'll soon learn that labels and plastic bins rule.
If you decide to share spices and other items like flour, vegetable oil and cooking spray, try arranging them in bins with labels that say "Shared." Use more labels to mark shelves and bins with each roommate's name, if you think you'll all need the reminder.
Countertops
Decide with your roommates if it's OK to keep items on the kitchen and bathroom counters. It may seem silly to discuss countertop space, but you'll be glad you did.
Decide how many and which items you agree to allow on the counters. Does the toaster that you never use drive your roomie crazy? Are you okay with your BFF's curling iron always being on the bathroom counter?
Air out your countertop pet peeves – you can always find ways to avoid potential disagreements.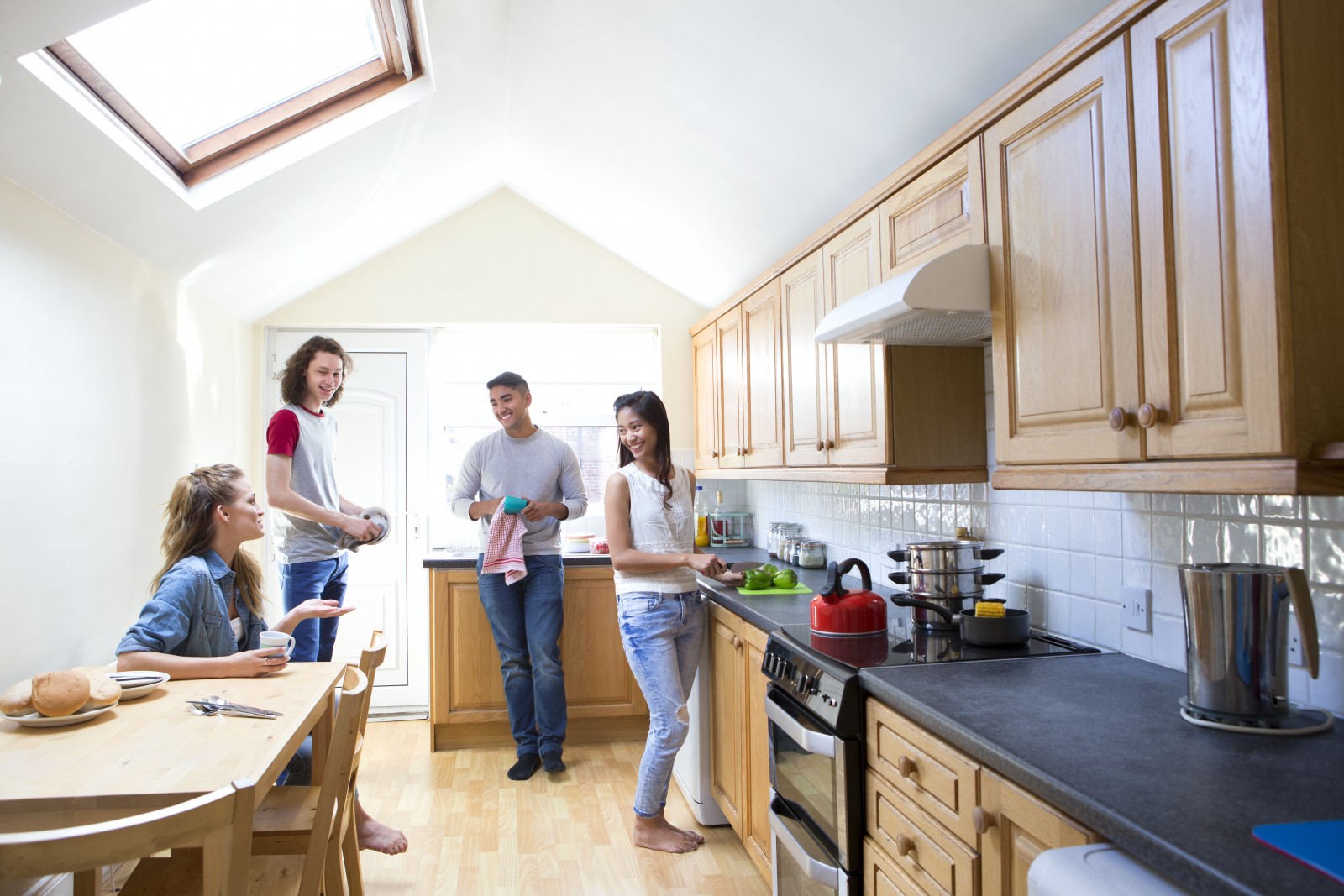 The shower
Avoid any possible product mix-ups with a couple of shower caddies. Hang one over the shower head, and put another one (or two) with suction cups on the shower wall. Plus, storing your bath products in hanging caddies leaves the corners of your tub easy to clean.
Storage
If your place comes with its own storage space, try using a tall shelving unit and dividing the shelves equally among you.
If someone ends up slowly taking over the unit, try putting your belongings in labeled plastic bins. If things really get out of hand, see if your storage buddy may be willing to pay a bit more in rent or utilities.
Parking
Your apartment comes with a covered parking spot? Sweet! Oh, it only comes with one parking space? Not so sweet.
Try rotating its use every week or month. Or make an arrangement saying that whoever uses the parking spot can pay more in rent each month. Another idea: The roommate with the covered parking spot could do more chores than the other roommates.
The key is deciding as a team in advance what's fair – and sticking to it.
Pets
If one of you has a pet, how do you decide where the crate, toy basket, and food and water bowls go? It may make sense to put pet items in common areas, but the pet owner shouldn't assume all roommates are cool with squeaky toys all over the living room floor – no matter how cute that pup is.
Just like you'd pick up your things from the living room, you'll want to pick up Fido's stuff too.
Wall space
Don't hang your art in common areas without getting your roommates' opinions first. Turn decorating your walls into a roommate activity. Gather all the art and decorative wall items you want to hang, and have everyone choose their favorites.
You can even turn it into a chance to get to know your roommates better. Have a cool story about where you got that tapestry? Got your favorite mural while studying abroad? Tell your roomies all about it – and listen to their stories too. They may be cool with your wall decor once they know the meaning it holds.
If all else fails, stick with similar color palettes, and decorate based on shared color groupings. Remember that what doesn't go up in the living room can go up in your room.
Space-saving lifesavers
You can use all the fancy organization materials you want, but sometimes the basics are best.
Adhesive hooks are great for hanging towels when you need extra bathroom space – or for hanging keys in the entryway.
Use shoeboxes to store smaller items like scarves, winter gloves and cosmetics. Label them to make everything easy to find, and you can even decorate them with wrapping paper to pretty them up.
Toilet paper rolls are an organizational lifesaver when you have too many cords. Designate each type of cord within one roll, and label them so you never mix up your roommates' cords with yours again.
Over-the-door hangers are essential for items like purses and coats. Or try an over-the-door shoe hanger on one side of the door, with your things hung on the other side for double the saved space.
Under-the-bed storage containers are key for off-season clothing items or bulky boots that don't seem to fit anywhere else. Your roommate will thank you for the extra closet space.
Fabric panels are an inexpensive way to divide a room for added privacy.
Even if the people you live with are not quite as organized as you, rest assured that at least your belongings are contained on their shelves and in their assigned containers. Having smart shared spaces allows you to enjoy your time with your roommates without stressing over whose stuff is whose.
Looking for more information about renting? Check out our Renters Guide. 
Related:
Originally published September 9, 2016.